The Better Streets Plan got off to a highly successful start, with more than 200 San Franciscans attending the Plan's kick-off event on April 5th, 2007 at City Hall. Mayor Gavin Newsom opened the evening by speaking to the need to improve the City's streets for pedestrians, cyclists, and transit riders, and his goal to create a higher quality, more vital streetscape for all users. Supervisor Jake McGoldrick, a co-sponsor of the related Better Streets Ordinance, spoke to the unprecedented interagency cooperation associated with the Plan. Supervisors Ed Jew and Ross Mirkarimi also were in attendance.
Eight department heads attended the event, representing the Planning Department, the Municipal Transportation Agency, the Department of Public Works, the Public Utilities Commission Wastewater Enterprise, the Department of Public Health, the San Francisco County Transportation Authority, the Mayor's Office on Disability, and the Mayor's Office of City Greening, emphasizing their respective department's commitment to the Better Streets Plan. Numerous members of the Better Streets Plan's Community Advisory Committee also were present.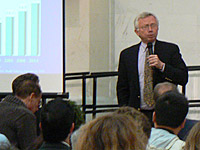 Dr. Richard Jackson, adjunct professor with UC Berkeley's Department of Public Health, delivered the evening's keynote address, emphasizing the connection between walkable, well-designed streets and public health.
Staff from the departments identified above were on hand to personally discuss the Better Streets Plan with the public and to answer questions. Members of the public also were encouraged to fill out comment cards and surveys, which were used to guide the Better Streets Plan.

Program Materials


April 5, 2007 Kick-Off Event (boards)

13.3 MB


Introduction to the Better Streets Plan (presentation)

3.1 MB
During Round 1 of Better Streets Plan outreach, the Better Streets City team also held four neighborhood meetings, three meetings for targeted populations especially affected by pedestrian quality, four focus groups, and made presentations to 25 neighborhood groups. After brief presentations, community members were able to give their feedback in a variety of ways, including:
Questions and answers for a panel of City staff from multiple departments
Facilitated small group exercises
Comment boards that ask participants to say which streets they like, which they don't and why
Surveys; and
Comment sheets
At the first round of community meetings, participants rated the five most important street improvements as:
Street trees
Greenery (landscaping other than trees)
Sidewalk maintenance
Clear sidewalks (free from obstructions)
Slower traffic
A full summary of community feedback from outreach rounds 1 and 2 is located here.